A guest post from my friend, ~Darlene Schacht, The Time-Warp Wife
Darkness enveloped the sky drawing its curtain around us, while the rumble of thunder composed a symphony of sound that was carried by on the wings of the wind.
It was only 8 pm, but Michael was fast asleep. Stretched out on his recliner by the window, he dozed off while two little puppies wrestled under his chair.
The steady tip-tapping of rain made me want to curl up beside him and fall asleep too, but I had some dishes that needed to be cleared away and some laundry to do for the morning.
I wasn't surprised to see him sleeping like that. I knew he'd be exhausted after the crazy week he just had. Working overtime every night, he was struggling to catch up at work.
And the weekend? It wasn't much better. Since he's been at the shop so much lately, the honey-do list was long and he was determined to get it all done.
He's a hard worker, there's no doubt about that. And weeks like this remind me of just how hard he pushes himself when the going gets tough.
There's a lot of weight on that man's shoulders. In fact, I can say that about most husbands I know. Even when they aren't facing deadlines at work, they are dealing with the spiritual and financial responsibilities that come with leading a family.
While many of them appear to have everything under control, most of our husbands would not only appreciate encouragement from us, they would benefit from it.
Any mom who cares for a growing child knows the importance of praise in their children's life. Not only does it help to build a healthy sense of self-esteem, it also reminds a child that he or she is loved.
In the same way, any wife who cares for her husband will also know the importance of praise in a marriage. It's vital to a growing relationship.
Matthew L. Jacobson once wrote, "We need your affirmation – we have to have it and, oh, how we thrive with it. Typically, men are quiet about these things but that doesn't mean we need and enjoy our wife's affirmation any less. And every man feels it: When his woman is behind him, he can slay dragons."
Do you realize that there are four verses in Proverbs alone that talk about nagging wives? They are referred to as quarrelsome, fretful, and a continual dripping. If you have ever experienced a leaky roof, you'll know how annoying that is. We experienced one about 20 years ago in our back porch, and regardless of how many times I emptied the pail it would only fill up again.
That's the danger with nagging. It becomes a never-ending habit if left unchecked, and unfortunately it festers resentment. Praise on the other hand has the reverse affect. It builds the bond of marriage and draws a couple closer together.
That's only two of the benefits, but there are so many more. Let's look at five of them:
When you affirm him, you are affirming your love for him. Knowing that someone loves you deeply strengthens the bond of marriage. Think of it this way: we form the strongest friendships with those that we deeply trust.
When you praise him for the little things he does, it's more likely that he'll be encouraged to repeat them in the future.
When I praise my husband, whether it be in his presence or in his absence, we bear witness of our marriage covenant. Keeping in mind that marriage reflects the covenant between Jesus Christ and the church it's important to honor our vows in the best way we know how.
Kindness is an attractive quality. There's no possible way a wife can be attractive when she's constantly nagging her husband. Sure, you can put the pretty on, but unless you're also attractive it wears thin. There's nothing appealing about a critical spirit.
He'll be glad to come home. Let's face it, the world is tough place. Many of our husbands are dealing with difficult situations at work and need a sense of relief when they walk through the door. Unfortunately, some other husbands are working with women who are building them up outside of the home. If we want a husband who is glad to come home to his wife, we can make him feel welcome by letting him know that we appreciate him, that we respect him, and that we're glad he is with us.
You are loved by an almighty God,
~Darlene Schacht
The Time-Warp Wife
Check out Darlene Schacht's newest book, Messy Beautiful Love: Hope and Redemption for Real-Life Marriages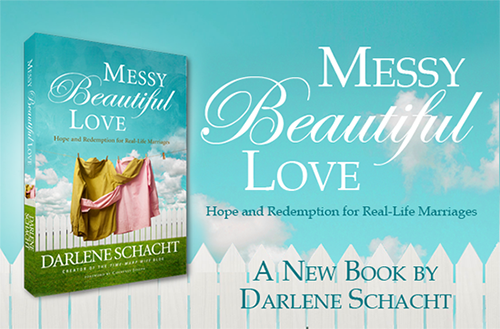 Messy Beautiful Love delivers an incredible testimony of grace that offers hope for today's marriages and a spark for rekindling love.
Love gets messy.
Financial problems, sickness, aging parents, a chronically unhappy spouse . . . trials will inevitably come that threaten your marriage. No matter how long you've been married or how strong your relationship is, sooner or later you are going to have a mess to clean up.
Messy Beautiful Love is about cleaning up messes God's way, exchanging your ideas for His, and being prepared for both the best and the worst that marriage has to offer.
When you surrender your relationship to God, then and only then will you experience the blessing of marriage as He intended. This is the blessing of obedience.
Messy Beautiful Love is an invitation to that obedience. The cynical world says marriages don't last, but God knows better. Tune out the world and tune in to Him. When you do that, a beautiful marriage is not only possible, it's inevitable.
Want to win a copy?
We're giving away two copies of Darlene's book, Messy Beautiful Love. Enter to WIN a copy by clicking "Share Your Thoughts" below this post, and leave us a comment telling us something you love about your husband. We'll randomly choose two winners. {If you're reading this via email, click here to ENTER TO WIN by leaving a comment on my blog}