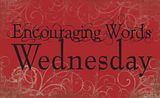 "Be strong and courageous. Do not be afraid; do not be discouraged, for the LORD your God will be with you wherever you go." Joshua 1:9 (NIV)
Have you ever wanted to silence the voices of your fears?
In my

Encouragement for Today

devotion at Proverbs 31 Ministries, I shared how I learned to do just that
by helping someone else overcome theirs. Before I knew it, I had faced my fear of open heights because I wanted to help a friend's child conquer his. And that day, I conquered mine, too.
Without even realizing it, I acted on God's command and believed God's promise in Joshua 1:9 that tells me I can overcome my fears with God's strength. I realized in a very tangible way that the same promises I claim so boldly for others are true for me, too.
Like God did with Joshua in today's verse, each day we have the same opportunity to come alongside each other in some of life's hardest challenges and highest peaks and say, "Don't give up, you can do it. I'll be with you and I will help you."
Today is Encouraging Words Wednesday. The second Wednesday of each month we gather here for encouragement and commit to share the power of encouragement with someone in our lives. In believing the power of God's promises for others, our confidence in His promises for us seems to grow as well. I like to call it the "encouraging words" boomerang effect.
Encouraging words have the power and potential to bring courage to the discouraged. Hope to the hopeless. Assurance to the insecure. Clarity to the confused. Strength to the weak. Calm to someone's chaos. Comfort for someone's sadness.
Encouraging words say, "I notice and I care enough to take this moment to tell you because you matter to me and you matter to God."
So, today let's shift our focus off our fears, doubts, insecurities and personal struggles and help someone overcome theirs. All we have to do is look for someone who could use a kind word, a boost of confidence, a note with a Bible verse or a short prayer in it. Even just a simple facebook post or email saying what we really appreciate about them, or how you see God's heart in something they do will make such an impact!
Join me and let's watch to see the difference this will make in our families, neighborhoods, work places and churches.

Lord, thank You for the power of Your words that give me courage to become who You've created me to be – to go to places You're calling me to go and climb spiritual heights that are out of my reach without Your help. Give me Your encouragement and help me encourage someone else today. In Jesus Name, Amen.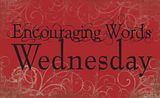 Encouraging Words Wednesday Gift Pack
His Princess: Love Letters from Your King
by Sheri Rose Shepherd (This is one of the most encouraging books ever!)
The Power of a Purpose Driven (and Encouraging) Mom
message on CD by Renee Swope (What a difference you can make!)

20 of God's Promises to personalize and send to a friend
(Nothing is more powerful than God's promises!)
*********************************
To enter to win
simply share some encouragement and let me know about it.
Click on the word "comments" below this post and type in the white box:
Commit to it-

List one person you're going to encourage today or this week and how you're going to do it.

Share it

– Share a link to this post with friends via Facebook. Just lick on my Facebook badge in my sidebar. Then click on "share" under my EncWds button on my FB page. You can also Tweet and/or email a friend a link and let me know.

Spread it

– Forward today's devotion to someone who has been an encouragement in your life, and thank them. It will really mean a lot to them!

For an extra chance to win,

add our

Encouraging Words Wednesday

button to your blog with a link to today's post, then come back and let me know in another comment. You can grab the code from my sidebar under the button.
**************************

Winners announced Monday – want to be
notified ?

If you'd like to be updated when I post or notified when
I announce the winner, additional give-aways or find out early about special promotions,
enter your email in the white box in my sidebar (right under the P31 logo).
I will not share your email with anyone. Promise.